Keeping your bathroom spotless
Of course you keep your bathroom spotlessly clean. Modern fittings also make it easy than days gone by with their sleek fittings that are covered or hidden. There are no more pipes hanging around to get grimy. But do you get in all the nooks and crannies? Would your bathroom pass a bacteria-free test?
Moisture free
How do you rid your bathroom of excessive moisture? Moisture that hangs around collects dust and encourages mould. If you have a window make sure you open it after bathing or showering. If you rely on an extractor fan turn it on before you start your bath time routine and leave it on for a good 15 minutes after you have finished.
If there is still moisture on the walls, use a squeegy mop to dry it off.
The toilet
The toilet is the most obvious bacteria-catching place. We know that everyone pays attention to cleaning the seat and the bowl, using strong cleaners to keep limescale under control in the bowl and your seat free from bacteria. But don't forget other parts of the toilet such as the outside of the bowl which can get very dusty and the tank. Remember to disinfect the handle regularly so that this is kept germ-free too.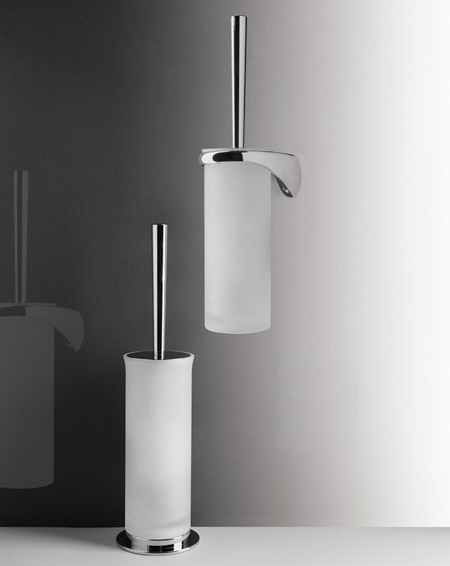 That toilet brush
Don't put the toilet brush back in its holder wet. Even if you've rinsed it after using it on your toilet bowl, it is still likely to hold germs. Put it back in its container and you have the perfect germ breeding ground.
Best soak your toilet brush and its container in an antibacterial cleaner. Then rinse well and dry both off before reassembling.
Different products
You will almost certainly need more than one product to clean your bathroom. Limescale removers or preventers are needed for the toilet as well as strong antibacterial products. You will need a good cleaner for your bath and basins plus something that can clean and encourage shine on your taps. Your tiles will definitely need something that removes any soap scum especially in the shower and your mirrors and glass doors will need a cleaner specifically aimed at keeping them in the best shiny condition.
If you still have a shower curtain keep it well wiped down to avoid soapy residue building up. If it has a liner, throw it in the washing machine with your towels. Tumble dry on low for a few minutes so that it doesn't leave a trail of water every where when you rehang it. Another tip is to pull a shower curtain closed once you've used it so that it has a chance to dry off.
Touch points
Last but not least don't forget to clean the small things especially those that get handled – taps and handles for instance which can harbour germs. Accessories such as toothbrush holders and shower racks can go through the dishwasher to keep them sparkling. Give back brushes and nail brushes a good soak in cleaner if they are looking a little worse for wear too.
Any accessories that doesn't scrub up, throw out and replace including the kids' bath toys!