The 'Friends' boys love their properties
While their television homes were Manhattan apartments, the male cast of Friends are California boys at heart. At least that's where you can find their recent properties.
Chandler's property is no joke
Matthew Perry, best known for his long-running role as Chandler Bing in Friends, is selling his Malibu home. It's truly a case of 'how the other half live' as this contemporary property, built in 1981, is on the market for $12.5 million. That's twice what Perry paid for it in 2005.
What strikes you first from the photos is its glass façade with views over the pacific Ocean and the Malibu Pier. Then we learn that it has four bedrooms and six bathrooms, including a master suite that occupies the whole top floor and comes with his and hers baths, a games room, a movie theatre and a gourmet kitchen.
The bathroom pictured takes advantage of those Pacific views and includes a huge walk-in shower space and a run of cupboards.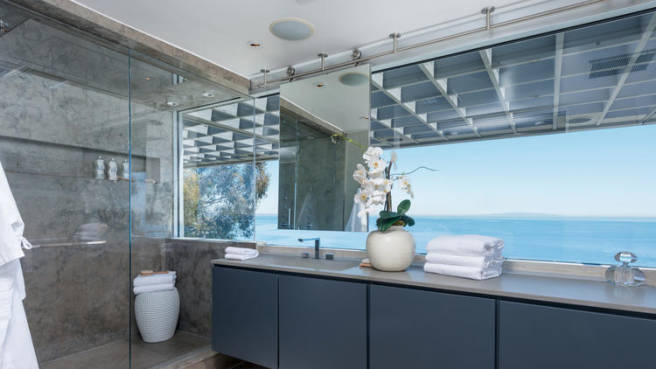 Ross' mansion
David Schwimmer, who played Ross Gellar, recently sold his mansion in Hancock Park, California. His sale at $8.8million was an increase of $3.3million on the price he bought it for.
This property boasts a huge living room with 15 foot ceilings and is well equipped with six full bathrooms and two cloakrooms. Did we mention the nine bedrooms, the butler's pantry and the wine cellar?
Joey has his head screwed on
Matt Le Blanc, who played the less than bright Joey Tribbiani, has proved a canny businessman when it comes to property.  He had an unfurnished  property up for rental at $13,000 a month.
This 4 ½ bathroom Spanish style property may not be able to complete with Ross' mansion for size, but the rental command for this 1930's property is pretty good.
Fascinated by celebrity
Current culture makes us fascinated by celebrities and how they live.  Certainly the location of Matthew Perry's home is more than desirable, and gaining insights into how the stars decorate their homes can be interesting – though some interiors are more tasteful than others.
If it's good taste you're looking for, you don't need to head to California – there's plenty on offer in the UK. As few of us can afford the ocean fronted properties, and certainly not the climate of California; more modest properties can offer pleasant surroundings.