Engineered Wooden Flooring
What is an engineered wooden floor?
An engineered hardwood floor is a composite sandwich of plywood layers stuck together with the wood grain at right angles to the previous layer and finally a thick solid decorative veneer layer of hardwood is stuck to the top as a finished layer. Please view photo for example of the timber construction.
For many years if you wanted to install a hardwood floor the only choice to be made was which species of wood do you like. This is because wooden floors were always manufactured out of a solid plank of wood.
What wasn't understood then was the limitations of solid wood. So below I have listed the main advantages an engineered constructed floor has over a solid wood floor.
1) Engineered To Be More Stable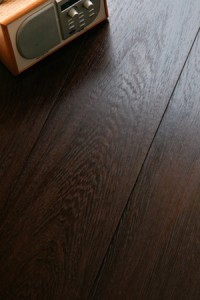 Engineered hardwood flooring has been constructed to be up to 80% more stable than its solid equivalent. Solid hardwood flooring is more moisture sensitive and can over expand, causing warping or cupping in the boards. At the other end of the scale if solid wood flooring loses moisture when the air is dry it can shrink, producing unsightly gaps between the boards. Both these issues are reduced by up to 80% in engineered hardwood flooring.
2) Saving Precious Hardwoods
Hardwoods are generally very slow growing compared to soft woods. Therefore by using a 6mm veneer top layer for the engineered wood flooring there would be a saving of 70% hardwood in its construction but would  have the same life expectancy as a solid wood floor).
3) Best for Under Floor Heating.
Engineered wood flooring, due to its extra stability,is the best choice over under floor heating. This is because the changes in temperature of the under floor heating affects the moisture content of the wood flooring. In a solid hardwood floor this can cause large gaps between planks and  splitting or warping of the boards. These are generally not a problem with engineered boards.
In conclusion, now that engineered wooden boards can be supplied with extra thick 6mm top wear layer the engineered floor has the same lifespan as a solid wooden floor. Therefore the engineered hardwood floor only has advantages against solid wood flooring. So the smart person really should embrace engineered flooring as the preferred trouble free choice. Here is a range of hardwood flooring for you to have a look at.