Bathroom Accessories
Now for the fun bit. The bathroom is done, and all you need are the accessories that will look good and make life easier. It is an expensive and pretty permanent decision, so you need to be sure you've got it right. After all the effort and stress of choosing the bath, the basin, the taps – even the toilet, you want to get those finishing touches just perfect.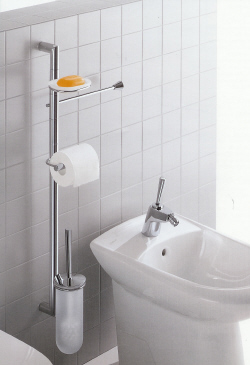 These little things can often be the difference between a good looking bathroom and a stunning bathroom.
21st century bathroom accessories are stylish and even more functional than ever before. Soap dishes and toothbrush holders do need to be practical and functional, but can also – so easily – add an enormous sense of style and personality to a bathroom.
Chrome and glass have revolutionised bathroom accessories, and shower baskets, towel rails and even toilet brushes can add a touch of class to almost any bathroom.  Modern bathroom accessories have a sleek, clean look, and don't look out of place in a more traditional bathroom setting either!
Choosing stylish bathroom accessories should always be done with careful consideration given to the practical purpose they serve. Is the mirror at the right height for everyone using it? Will it reflect light? Will you need coat hooks or shaving mirrors? A family bathroom will probably need more towel rails than an en-suite………..
The decisions about bathroom accessories should be taken just as carefully – and hopefully be just as much fun – as choosing the rest of the bathroom.